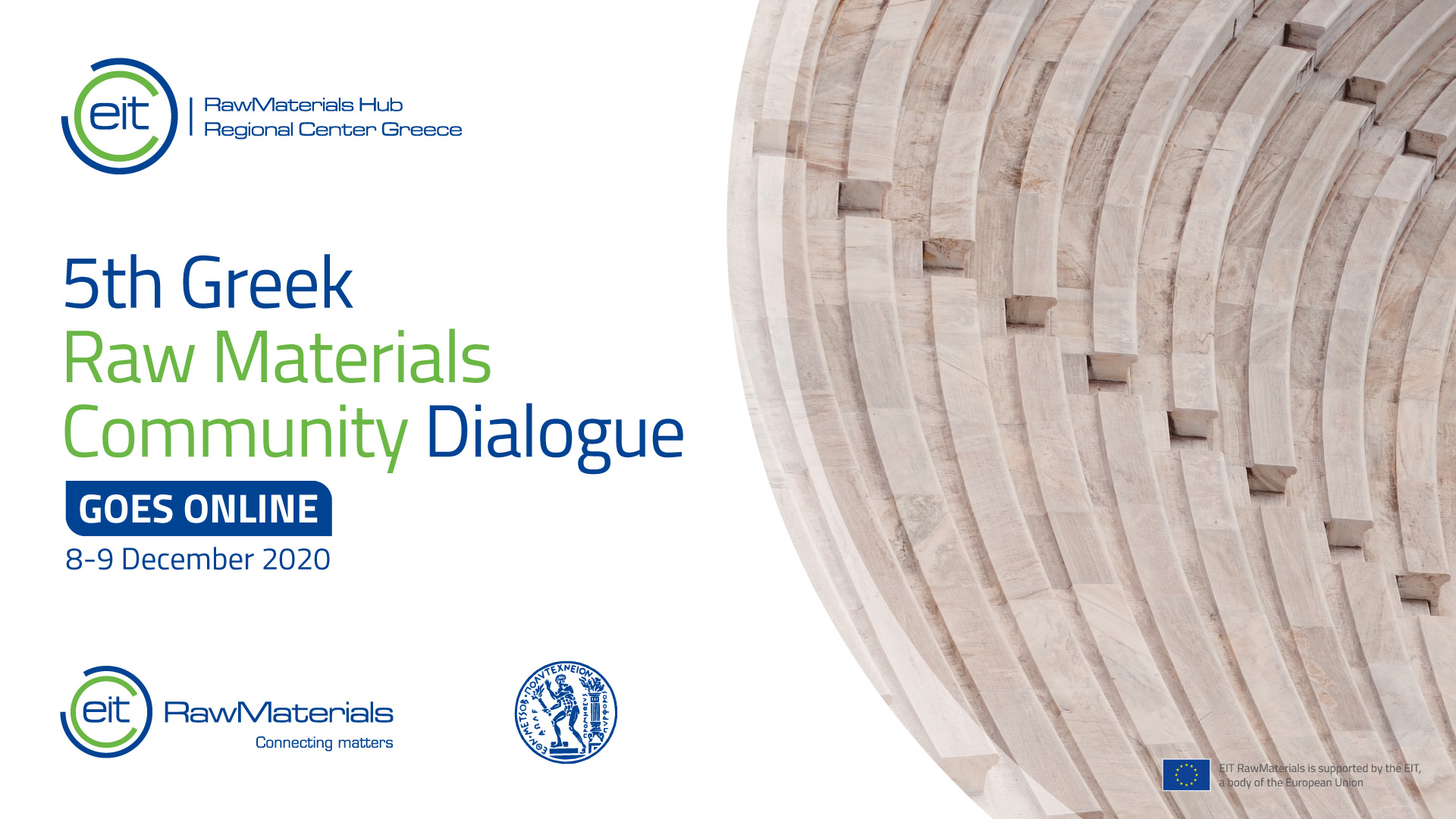 5th  Greek Raw Materials Community Dialogue…. Goes Online!
Date: 8 & 9 December 2020
Time: 10:00 – 14:30 EET
We are pleased to invite you to participate in the that will take place on December 8-9, 2020, as a virtual event.
EIT RawMaterials HUB: Regional Center Greece, established in May 2018 and operated by the Laboratory of Metallurgy of the School of Mining and Metallurgical Engineering NTUA, aims  to engage and stimulate the Greek Raw Materials Community through actions on multiple directions (both technical and not), in order to address issues of importance and strengthen the overall position of the RM Sector in Greece, as well as internationally. The project is funded by the European Institute of Innovation and Technology (EIT) and EIT RawMaterials (EITRM).
The Greek Raw Materials Community Dialogue is an established annual event since 2016 and aims to bring together the industry (large and SME), the governance (national and regional), academia and research institutes of Greece along with executive European organizations of the Raw Materials sector as members of the EIT Raw Materials (KIC) to discuss over the current state in the Greek and EU raw materials sector, address the Knowledge Triangle (academia, research, industry) in political level, present tools and initiatives in EU and Greece that act as facilitators for the sector and examine the innovation needs of the Knowledge Triangle.  
Following this tradition, the 5th event focuses on Europe' s need to strengthen its competitiveness and secure resources by contributing to innovation and entrepreneurship in the Raw Materials sector, driven by the Circular Economy. The main objective is to offer an aspect of Greek and European status quo regarding policies, research and current practices. This will be deployed under 3 thematic units, namely:
"Integration of the Circular Model in the Greek and European RM Sector- Policies"

"Closing Material Loops": European research from linear to circular thinking

"Circular Economy in European and Greek RM Ecosystem: Best practices"
We are looking forward to welcome you on-line!
Please register by December 5th 2020 to receive connectivity information. The event's language is English.
Sorry… This form is closed to new submissions.